Browsing articles by "peretz | Jalalagood"
Cross post­ed from: http://www.users.cloud9.net/~bradmcc/GO/attire.html
Matthew VanDyke with the

PKT

machine gun he used in com­bat in Sirte, Libya
"Have you want­ed to do some­thing to help the Arab Spring but weren't sure how? This is your chance.

In Sep­tem­ber, 2012 two famous free­dom fight­ers from the Libyan rev­o­lu­tion, Amer­i­can Matthew VanDyke and Libyan Masood Bwisir, will trav­el togeth­er to Syr­ia and join the rebels on the front line against the dic­ta­tor Bashar al-Assad. "

"What is the pur­pose of this project and what will VanDyke and Bwisir be doing in Syria?

[Among oth­er things, film­ing] Masood Bwisir enter­tain­ing and improv­ing rebel morale with his famous rev­o­lu­tion songs, includ­ing new ones or vari­a­tions of his Libya songs mod­i­fied for the Syr­i­an revolution"
This kick­starter appli­ca­tion reads like an audi­tion to be picked as a char­ac­ter in a first per­son shoot­er. Drop a coin and hit the space­bar to select this char­ac­ter for the Syr­ia level.
It feels as though the rewards should have been 25$ gets a mag­a­zine clip for AK. 100$ gets a new AK. 1$ buys chai on a hot Syr­i­an day.
I mean, I like crazy … I just think that this kick­starter is crazy in an both old and inter­est­ing­ly nov­el ways. I spent a lit­tle bit of time try­ing to relate to the mind that gen­er­at­ed this project proposal.
From here, it's not such a dis­tant jump to imag­ine crowd­fund­ing mer­ce­nar­ies in third world places? Now imag­ine, two com­pet­ing fac­tions engag­ing in such fundrais­ing, eg "cam­paign con­tri­bu­tions"? I'm sur­prised Kick­starter has allowed this project up on the site, and I am glad that the fund­ing has begun to stall out at the final moments.
Matthew, if you read this, why don't you just reach out to Vice Mag­a­zine and get an advance from them to cov­er your expenses?
On a relat­ed note, I high­ly rec­om­mend you read Cam­paign­ing on the Oxus by Jan­u­ar­ius Aloy­sius MacGahan.
He was an Amer­i­can reporter for the New York Her­ald Tri­bune who cov­ered the Russ­ian Army cam­paign in Cen­tral Asia in the late 1873 as a 29 year old. Start­ing from a remote Siber­ian town, he gal­loped 2,000 miles through the dessert to join the Russ­ian forces invad­ing Khi­va. His writ­ing is engross­ing. Â On the way, he doc­u­ments a vis­it to a Khan's harem, and when he final­ly arrives, his engaged jour­nal­ism takes him to the bat­tle­field, where he par­tic­i­pates in the slaugh­ter of the sword field­ing sav­ages with his own rifle.
You should in the least read the open­ing para­graphs of the preface.
Those were the good old days!
Accord­ing to a trust­ed source, we learned that the Taj Mahal guest­house man­ag­er has been shot by two motor­cy­cle rid­ing gunmen.
We knew him as Mehrab, while his full name was Mehru­bin Saraj. For many of us, he was more than the man­ag­er of the Taj Guest house, but our first condi­ut into Afghan soci­ety. He took us to pur­chase our Afghan clothes and explained the world out­side the com­poud walls.
One care­free after­noon, I asked Mer­hab to tell me about his life before the Taj. This is a tran­scrip­tion of my notes from that day:
In the 80's we saw ter­ri­ble things.

As a teenag­er, after a Sovi­et raid, I helped bury 14 mem­bers of my extend­ed fam­i­ly. That night we packed all our belong­ings onto a don­key drawn cart. With a car­a­van of 23 and two cows we trav­elled two sleep­less days to the bor­der with Pakistan.

My father want­ed to avoid the mass­es accu­mu­lat­ing in refugee camps on the bor­der, so he guid­ed us to the hills on the out­skirts of Peshawar, where he knew about some caves.

We sur­vived as shep­pards, hav­ing bartered some of our goods for ani­mals. We shel­tered inside the caves and blocked the entrance by stones each night to pro­tect the ani­mals from wolves and jack­als. At times I would stand watch with a rifle, and tried to fol­low my fathers advice "aim for the bright eyes".

My father was most con­cerned with the posi­bil­i­ty that the kids would get bit­ten by snakes and scor­pi­ons. In time, he man­aged to pur­chase tents and we moved back to the refugee camps so that the youger kids among us could attend makeshift schools.

When the next sum­mer came, to escape the heat, my fam­i­ly again went back to the high­er ele­va­tions near the ancient caves, but this time we set­tled in the plum orchards. … and we brough oth­ers with us.

While the own­ers of that land had pre­vi­ous­ly tol­er­at­ed us as one fam­i­ly, they took an armed stand upon our arrival block­ing our way. They wor­ried that we would bring even more refugees with us and would start treat­ing the land as ours.

So we went back to the caves and only went to the orchards for picnicks!

In the 90s we returned to Jalal­abad. A branch of my fam­i­ly had escaped to Egypt and also returned. One of my broth­ers went miss­ing in Iran, and I still don't know where he is.

We recov­ered our home and I was mar­ried to my cousin. We lived some­what apart in refugee camps, but my par­ents told me about her and made the fam­i­ly arrange­ment even before we returned.

Since then, I have tried my hand at var­i­ous enter­pris­es. I worked at what I knew best — as a shep­phard for 6 months. A soap fac­to­ry I start­ed failed. I tried my hand as a bee­keep­er, bought 25 hives, but they all died. And then I opened a tobac­co shop.

I dis­cov­ered the Taj Mahal Guest house when it was run by the UN. I came on as a pool clean­er, and worked my way up to man­ag­er. First I worked close­ly with the Kiwis, and now with Dave.
RIP Mehrab. August 2012.
I spot­ted an old man sit­ting in a crowd­ed bazar, sewing army and police patch­es onto uni­forms. I hag­gled and picked up a dozen.
We chose to cel­e­brate the Per­sian New Year, Nowruz in Mazar-i-Sharif because it is the epi­cen­ter of cel­e­bra­tion in Afghanistan. Over 200,000 peo­ple con­gre­gate at the Rowze-e-Sharif Mosque which the Afghan Shia believe hous­es the tomb of Hazrat Ali ibn Abi Tal­ib whom they con­sid­er Islam's first Imam. Nowruz is offi­cial­ly rec­og­nized as a nation­al hol­i­day and high rank­ing offi­cials attend the celebrations.
Although the fes­tiv­i­ties are cen­tered on the Mosque, Novruz is a pre-Islam­ic hol­i­day that is not men­tioned in the Koran. Because of this, accord­ing to some of the Sun­ni tra­di­tion, it is con­sid­ered bid'ah (a pro­hib­it­ed addi­tion to the reli­gion.) The Shia on the oth­er hand, con­sid­er it a cel­e­bra­tion of Hazrat Ali's ascent to the Caliphate on this day in 656 AD.
Both the con­cen­tra­tion of peo­ple and the reli­gious ten­sions sur­round­ing the hol­i­day gave us good rea­son to stay espe­cial­ly alert. The Afghan Nation­al Army (ANA) was equal­ly con­cerned, essen­tial­ly apply­ing a thick secu­ri­ty blan­ket to the cen­ter of Mazar, pro­hibit­ing any civil­ian car traf­fic and screen­ing pedestrians.
Air­port
Civil­ian Air­ports in Afghanistan aren't much more than an airstrip sur­round­ed by barbed wire. You land, walk onto the tar­mac, out the chain link fence and you're done.
At 8AM on the morn­ing of Nowruz, we found our­selves in a desert, 8 miles out­side the city, car­ry­ing a heavy load, and with­out trans­porta­tion. Because of the mil­i­tary lock-down, trans­port vehi­cles were not able to reach the airport.
For at least a mile on the road lead­ing to the air­port, ANA sol­diers were spaced every fifty feet. They shift­ed their weight from foot to foot, smoked cig­a­rettes and stared out across a vast flat plane.
There wasn't much for us to do oth­er than walk, and so we did.
A con­voy blazed past us towards the air­port. It was com­prised of fifty fan­cy SUVs, (Mer­cedes, Audi, and Toy­ota Land­cruis­ers) fol­lowed by fifty police and mil­i­tary trucks, most­ly 4x4 Toy­ota HiLux pick­ups (a favorite of the Tal­iban) with four seats in the truck beds for sol­diers with guns. Many had machine guns mount­ed on the roof of the cab.
Coin­ci­den­tal­ly we land­ed at the same time as Pres­i­dent Hamid Karzai and Gov­er­nor Atta Muham­mad Nur and these boys were here to escort them into town for a pub­lic appear­ance at the mosque.
After a few miles of walk­ing, we found a taxi which we shared with a fel­low pedes­tri­an, a UNDP employ­ee. As the city was cor­doned off, the taxi dropped us on the perimeter.
Hotel Barat
Hotel book­ings were at a pre­mi­um for the dura­tion of Nowruz, hard to find and with goug­ing prices. We relied on our friend Mai­wand (the cap­tain of Mazar's bas­ket­ball team) to secure us a room at a pre­mi­um loca­tion. But in order to hon­or our reser­va­tion, the hotel insist­ed that we pay for sev­er­al extra nights in advance. As this was the best option (and frankly there wasn't anoth­er) we had to give in.
Work­ing through a maze of secu­ri­ty check­points, we even­tu­al­ly got to our hotel. On the way we learned that the mosque grounds were only open to women in the morn­ing (at least until after Karzai's appearance.)
Recep­tion strug­gled to find us a room, say­ing that they assumed we weren't com­ing since we hadn't showed up two days ago. They had to con­cede all sleep­ing spaces to the sol­diers who were every­where, even on the roof of the hotel, and had cots there too!
We respond­ed that we paid for the two nights before our arrival only because it was their con­di­tion for reserv­ing the room. Even­tu­al­ly, they kicked out the sol­diers and gave us a room on the top floor.
From our win­dow, you could sur­vey the entire grounds and gar­dens of the mosque. They con­sti­tute a siz­able city park, a square per­haps a quar­ter mile to a side.
It was a dis­play of pri­ma­ry col­ors. The blue tiled mosque was gleam­ing in the cen­ter. The gar­dens were fes­tive­ly dec­o­rat­ed with gar­lands and stream­ers, but pre­dom­i­nant­ly ver­dant green.
Thou­sands of white doves pro­vid­ed an are­al blan­ket, while heli­copters made sur­veil­lance laps above them, drop­ping con­fet­ti and toys on lit­tle red parachutes.
All the TVs were stream­ing live from the main court­yard of the mosque. Karzai was about to speak. We were so close that we heard the loud­speak­ers first and then the TV screen with a slight delay.
Giv­en that we missed a night of sleep, Lou and I actu­al­ly tried to get some rest. An hour lat­er we were jarred awake by the sounds of artillery fire. Along with oth­er hotel patrons, we ran up to the roof to inves­ti­gate. When you hear gun fire and music in Afghanistan, you're taught to inter­pret that as a wed­ding par­ty. This is also the rea­son why many wed­ding par­ties had been bombed until the mil­i­tary learned to review their intel­li­gence better.
It turned out to be a cel­e­bra­to­ry salute to Karzai.
The Fun­faire at the Blue Mosque
Fail­ing at sleep, we explored the cen­ter of Mazar, its fresh juice stands and shawar­ma joints. When the restric­tion on males was lift­ed, we entered the grounds of the mosque.

The atmosh­pere resem­bled a car­ni­val with ven­dors of col­or­ful bal­loons and toys, blan­ket spreads of semi­precious rocks, jew­el­ry, fes­tive dec­o­ra­tions, hen­na, sur­ma, women's panties and silk robes.

(Night also revealed thought­ful­ly illu­mi­nat­ed sculp­tures and bill­boards arrayed with LEDs.)
Every­one, but espe­cial­ly the youth, were fes­tooned to the Nowruz max. Girls and boys were active­ly par­tic­i­pat­ing in the gaze econ­o­my, the cau­tious give and take, yet not too much of either; cast­ing furtive glances, and if caught, walk­ing straight away.
The boys put on their shini­est shirts and fan­ci­est brimmed hats.
I even saw some girls faces, some­thing entire­ly unimag­in­able in Jalal­abad. But even under the blue burqa clad major­i­ty you could spy the glam­or of the out­fits beneath and guess at the delib­er­a­tion expend­ed to com­pose them. Lit­tle accents on their ankles and toes com­mu­ni­cat­ed vol­umes with the small can­vas that mod­esty afforded.
Were you a bach­e­lor in this cli­mate and only focused on the can­di­dates whose face you could see, you'd be dis­crim­i­nat­ing against the major­i­ty of the pop­u­la­tion. I must admit, there is a cer­tain intrigue in not know­ing what is behind the cur­tain. We saw a boy, tail­ing two glam­orous girls in burqas, tempt­ing them in a very uni­ver­sal way, "I have a car."
This gave new mean­ing to the term "blind date".
It all felt very for­eign from the Afghanistan I came to know and rely on while liv­ing in con­ser­v­a­tive Jalal­abad. While even in Jalal­abad it was impos­si­ble not to read into the per­son­al frus­tra­tions of every­one you got to know indi­vid­u­al­ly, it was nev­er on pub­lic dis­play, like this, by everyone.
Jahen­da Bala
In the inner court­yard, a group of Shia hud­dled close and were work­ing them­selves into a trance by chant­i­ng. They were present for the Jahen­da Bala, a flag rais­ing cer­e­mo­ny, com­mem­o­rat­ing the col­ors of the ban­ner that Hazrat Ali raised in bat­tle for Islam.
This reli­gious prac­tice was pro­hib­it­ed dur­ing the time of the Tal­iban and to the con­di­tioned eye of a Sun­ni Pash­tun, it still seemed like the work of heretics.
Even Najib revealed his prej­u­dice. His face became flush and he said, "Let's go. I'll tell you about this later."
Afghan Nation­al Army's most heav­i­ly armed man
We spent a cou­ple hours wait­ing for Najib's friend Sheikh in the com­pa­ny of the ANA's most heav­i­ly armed man. He had a quiver with four RPGs and car­ried anoth­er loaded one in his hand.
Najib guid­ed us next to him and remarked that we were in the safest place in town, but I did not agree with his assess­ment. There wasn't a place for miles in over­crowd­ed Mazar where such a weapon could be used effec­tive­ly with­out sub­stan­tial col­lat­er­al dam­age. In fact, being next to such a war machine made me feel like more of a target.
Besides, the RPG slinger said he had only ever fired four rounds, all for prac­tice. It's an expen­sive plea­sure. He claimed each round cost $10,000 but I doubt he knew what he was talk­ing about.
There were a few kids hang­ing out with the sol­diers. Fre­quent­ly, they'd ask to play with the guns or just tugged at the bar­rels with­out ask­ing. And sol­diers, who were Afghan kids them­selves and could relate, oblig­ed, non­cha­lant­ly pass­ing the guns around with­out so much as a word of cau­tion to not point them at people.
Sheikh and Nasir
We were wait­ing for "Sheikh". He's a busi­ness asso­ciate of Najib's rel­a­tive Nasir. Nasir had recent­ly run up a huge debt with Najib and then dis­ap­peared. Such a thing strains but does­n't nul­li­fy friend­ships. Najib lament­ed, "if only we were still on good terms with Nasir, we could ride across the entire north of Afghanistan and have peo­ple slaugh­ter goats in our hon­or and show us a good time. Sheikh was our stand in for Nasir and though I don't know what it would have been like with Nasir, Sheikh was an excel­lent host.
Sheikh car­ried him­self with the air of a suc­cess­ful busi­ness­man on the verge of secur­ing a large con­struc­tion con­tract with the Amer­i­cans which would make him even more successful.
His first ges­ture was to give a crisp 100$ bill to his nephew (who dou­bled as his min­ion and dri­ver) to get us "something". He then flagged down a Pash­tun police com­man­der and got us an escort to the governor's pri­vate­ly owned amuse­ment park on the south­ern reach­es of the city.
Once inside, we were sur­round­ed by blinky lights, LEDs, glowy orbs and illu­mi­nat­ed sculp­tures. It was strange­ly rem­i­nis­cent of Burn­ing Man. Frankly, much of this adven­ture felt that way. Najib got ride tokens.
Ali
In line for one of the carousel rides, we met a Russ­ian speak­ing boy, Ali. He over­heard me talk­ing to Najib and came to make friends. We talked about his time in Rus­sia, his fas­ci­na­tion with Hip Hop. On his shoul­der he car­ried a large boom box. He wore huge sun­glass­es. His skater hat was at an angle. His shoe laces were neon green and pink. We were yelling in Russ­ian, Eng­lish and Pash­to, all of Sheikh, Ali, Lou, Najib and me; all scream­ing over each oth­er, mer­ry mak­ing. One of the guards approached us and tried to get Lou to leave the men's line (where we all were and hadn't even real­ized there was a sep­a­rate one.) Najib and Ali start­ed berat­ing him loud­ly, even­tu­al­ly shoo­ing him away. We were whipped around on teth­ered swings and even got pudgy Sheikh to strap in for the flight with us.
Oth­er People's Women
We toured the amuse­ments and spot­ted a large group of girls sit­ting around a pic­nic blan­ket. Najib cau­tioned us about walk­ing too close. He said that they are oth­er people's women and if we approached too close, we may have to resolve the mat­ter with their men.
Chars
Sheikh's dri­ver reap­peared with "chars" (the Afghan word for hash). Sheikh's chars han­dling skills were mas­ter­full, like a true char­si (chars user). We sat on train tracks in the process. Through Najib's trans­la­tion Sheikh inquired about the logis­tics of com­ing to the US and specif­i­cal­ly how much mon­ey he'd need to save up in order to have a week's worth of good times. "Will $20,000 be enough?" I asked his inten­tions. He replied defen­sive­ly, "no casi­no, no bars, no girls… just nor­mal things." I said that a few thou­sand should be plen­ty. "And what if … what if, we did some casi­no, some bar and some girls?"
Jama Khan
The next day Sheik showed up with a new side kick, 19 year old Jama Khan. Jama is the son of war­lord Coman­dan Haji Akhtar دمحم رتخا ېجاح Coman­dan Haji Akhtar is on the Balkh Provin­cial Coun­cil and has a pret­ty awe­some ride (4x4 SUV).
Accord­ing to Jama and Sheikh, Jama's old­est broth­er Wali Muham­mad Ibrahim Khil was killed by Amer­i­cans after the gov­er­nor Atta Muham­mad Nur told them he was work­ing with the Tal­iban. Whether he was or was­n't, it used to be that say­ing some­thing like this to the Amer­i­cans was a rather good way to elim­i­nate a pow­er­ful competitor.
Sheikh was ten­ta­tive with our plans. "Where you want to go? How about you come to my village?"
Ah, that elu­sive Afghan vil­lage(!), idyl­lic, pas­toral, won­der­ful, and … every­thing, except it's infest­ed by Tal­iban.  (Najib tells us that this is espe­cial­ly true of Sheikh's village.)
Sheikh insist­ed, "I'll make sure you are safe."
Najib said "Thank you, but NO" on our behalf and instead we aimed the SUV for the neigh­bor­ing city of Balkh.
Pic­nic in Balkh
Balkh is a frail old­er broth­er to Mazar. It is an ancient city (4,000 years old) and a his­tor­i­cal cen­ter of Zoroas­tri­an­ism. Due to a Malar­ia out­break in the late 19th cen­tu­ry, the region­al cap­i­tal shift­ed to Mazar-i-Sharif (but the province is still called Balkh.)
In con­trast to Mazar's square grid around the Blue Mosque, Balk is arranged in a radi­al grid around a cir­cu­lar park con­tain­ing the Green Mosque.
While his min­ion picked up a bag full of meat in town, Sheikh gave us a guid­ed tour of the park. We then dropped the meat at a near­by relative's house which we simul­ta­ne­ous­ly raid­ed for pic­nic sup­plies: a large ther­mos of tea, a whole ser­vice of tea cups, vinyl table cloths and woven rugs.
From there we climbed the ancient city walls of Balkh to get good views and to select the per­fect (read "isolated") pic­nic spot. Sheikh decid­ed on a fur­rowed field next to a shady grove where he unfurled the car­pets in such a way that the fur­rows became recessed rows of seats around an ele­vat­ed table.
A few more rel­a­tives appeared with the meat, already pre­pared, in a pot.
Hun­gry, we ate the lamb, the Afghans teach­ing us to suck out the mar­row, and got our hands greasy and then han­dled cups of tea and Pep­si bot­tles, spread­ing the grease; and then made futile attempts to wipe our hands clean with tis­sue papers, which are the nap­kins of choice in Afghanistan.
What if "men with gun­s" appear?
The con­ver­sa­tion turned to the sub­ject of safe­ty and how nice it is that we are sit­ting here with a war­lords son (Jama Khan) which would be use­ful if men with guns appeared.
To which, Jama respond­ed by say­ing that we're safe not because of him, but because Sheikh is here.
To which Sheikh said, that if guns appear there won't be a Sheikh here, because guns are guns and bul­lets don't discriminate.
To which, every­body laughed and con­sid­ered the sit­u­a­tion resolved to the extent possible.
Kid­s' Table
Not twen­ty feet off, behind the grove of trees, a few kids were pick­ing at the mud and glanc­ing at us with mis­chie­vous faces. Sheikh first shooed them away, but when they didn't budge, he invit­ed them to eat with us, and when they proved too shy to respond, he round­ed up a bunch of meat on a plate and half of a Pep­si bot­tle and gave it to them. And so our pic­nic picked up a children's table.
Girls can drive?
Back in Mazar, Sheikh itched to go back to the carousels. Jama Khan want­ed to dri­ve his jeep into the moun­tains. We com­pro­mised by dri­ving out of the city past the car­ni­val grounds where Jama could show us a bit of reck­less dri­ving. Then he turned to Lou and said, that if he could see a girl dri­ve a Jeep offroad that would real­ly make his day. And Lou took him up. In all our time in Afghanistan, we saw a female the behind the wheel just once, (and it was the Shari-Naw neigh­bor­hood of Kabul.)
Ran­som for a Good Time
We ini­tial­ly met up with Sheikh in order to pay him back the 100$ deposit he had sub­mit­ted on our behalf to Hotel Barat. And while I had giv­en the mon­eys to Najib, he hadn't com­plet­ed the trans­fer to Sheikh. When I asked him about it, he said "Wait, I'll give it to him at the end. This way he still has a rea­son to hang out with us and show us a good time!"
Our final day in Mazar we got some shop­ping done, and before long Jama Khan was call­ing ask­ing to hang out. He showed up with a body guard who he proud­ly announced was on the min­istry of interior's pay­roll. To prove the point he made the boy pull out his ID card and show us. Sur­pris­ing­ly the ID card was also his salary card. It does­n't real­ly mat­ter who you are until you show up in front of the cashier at the bank. When you col­lect YOUR salary is when it is impor­tant to know who YOU are.
Today Jama want­ed to go show us the moun­tains he didn't get to the day before, and so we drove south, past the gar­gan­tu­an Sovi­et bread fac­to­ry, past the car­ni­val grounds, past emp­ty streets of sub­di­vid­ed lots with retain­ing walls and some con­struc­tion, and then streets with lots with­out con­struc­tion, just retain­ing walls, and then lots, but no retain­ing walls, but just grav­elled roads in a grid, and out­door sewage ditch­es mark­ing their bound­aries antic­i­pat­ing the city's expan­sion. There were only shep­herds there to graze their sheep, though there wasn't much (left) to graze. The sheep tried to escape the heat by hid­ing in sewage ditches.
But Jama drove onward.
Juma Khan drove with­out regard for streets. He re-land­scaped the hills.
All of these plots, I learned lat­er, were from a planned expan­sion of the city orches­trat­ed by the gov­er­nor. We'll be big­ger soon! The state can make mon­ey sell­ing plots of land!
After dri­ving for a while we seemed no clos­er to the moun­tains in the dis­tance. We were in the steppe and occa­sion­al­ly you could spot anoth­er group that voy­aged to these hills.  This is where they came to escape the bus­tle of the city (and the Tal­iban of the vil­lage.) This is where they came to be alone with their fam­i­lies. These were the "mountains" that Jama want­ed to take us to, as this is where he would come with his friends, rip donuts in his 4x4 and toke the chars.
Buzkashi
(Click here for a more in-depth descrip­tion of the game. )
Novruz is also the cul­mi­na­tion of a Buzkashi sea­son and so we asked Jama to takes us to the match. It became clear after some prod­ding that he didn't feel com­fort­able going.
It turns out that just like Amer­i­can oil tycoons buy foot­ball teams, Afghan war­lords main­tain sta­bles of buzkashi hors­es and teams of star rid­ers under their care.
The buzkashi field there­fore is not real­ly a safe place. It's proxy war. But real war occa­sion­al­ly breaks out in the stands also. It's the one pub­lic event where per­son­al scores are set­tled by assassination.
In the end, Jama agreed to take us, but "only for a lit­tle bit".
These buzkashi grounds were very dif­fer­ent from the mud­dy snowy pit we vis­it­ed in the Pan­jshir Val­ley. It was a large hot dusty field lord­ed over by a gar­gan­tu­an Sovi­et bread fac­to­ry. On one side were the stands, seat­ing sev­er­al thou­sand peo­ple. A water truck was zig zag­ging through the field dur­ing the game, spray­ing the ground, try­ing to keep the dust down.
Jama dis­ap­peared and left us with his body guard. When he returned, it was on a horse. The buzkashi hors­es aren't too tall, as then it would be too hard to reach down and grab the dead goat from the sad­dle, but they are hard work­ers. All of the hors­es were drenched in sweat yet they per­sist­ed in run­ning full gal­lop at the min­i­mal urging.
In fact, a buzkashi horse is hard to keep still. If you don't do any­thing, it takes off. It's like hav­ing a car with­out the gas ped­al. It always assumes the ped­al is floored. You have to active­ly say stop.
The hors­es are also remark­ably easy to rear. Both Lou and I gave the hors­es a try and suc­cess­ful­ly got them on their back legs, kick­ing in the air, over and over again.
With Jama by our side, we were a part of the action rather than pas­sive observers.
Our sched­ule was tight. From the horse track, we went to the bas­ket­ball court.
Bas­ket­ball Practice
My pipe dream for Mazar was that Najib and I get to join the Mazar bas­ket­ball team for a prac­tice ses­sion. I tried get­ting in touch with Mur­ta­zo, but for a cou­ple days all his text mes­sages report­ed that his father for­bid him to go out­side because it was dangerous.
Our con­nec­tion was Mai­wand, the cap­tain, the same guy who helped us out with the hotel. When we met Mai­wand, Najib grabbed him lov­ing­ly and they walked hand in hand all the way to the bas­ket­ball court.
Nei­ther Najib nor I were pre­pared to play, but they took care of us, giv­ing us sneak­ers and shorts and uni­forms and we went through the whole stretch­ing, warmup and exer­cise rou­tine. They split us up into teams and we played a few prac­tice matches.
At one point, there was a loud BOOM and a pil­lar of smoke rose just behind the wall of the court. Some of us ducked to the groud, but then Mur­ta­zo laughed, "it's just a truck tire blow out!" and we went back to playing.
Half way through prac­tice, there was a tea break.
Many of the boys spoke to me in Russ­ian on the court. They were com­mon­ly Uzbeks or Tajiks edu­cat­ed across the bor­der. The coach had also stud­ied in Russia.
Najib tried some fan­ci­ful spin move and end­ed up twist­ing his ankle. Just as he sat on the bench, Sheikh arrived. He came bear­ing gifts, some per­fume for me and face cream for Louisa. At that point Najib asked him for Nasir's where­abouts and gave him the 100$ bill.
Farewell Afghanistan, farewell Najib …
The next morn­ing we were out of Mazar and the next day we were in Delhi.
Nai­jb was on the verge of tears when we part­ed. "It will be bor­ing with­out you. Thank you. You've changed my life. I will nev­er for­get you." I owe him at least a blog post, and prob­a­bly a lot more, so that you will under­stand why.
I'll just add, since it's a feel­ing that I'd rather not for­get, but when we board­ed the Air India air­plane in Kab­ul and I saw the female flight atten­dant walk by in a pair of tight fit­ting pants, I felt abashed­ly tit­il­lat­ed. There was a sight I had been deprived for the past three and a half months. Absurd, I know, sorry.
The wind picked up on our final morn­ing in Jalal­abad. It was soon strong enough that we locked our win­dows and yet it howled through the cracks. By the ear­ly evening the gusts were so strong that they broke win­dows on the upper deck, broke our deck fur­ni­ture and knocked over many plants.
We were about to leave Jalal­abad, our adopt­ed home, where I spent 1% of my life. Before head­ing back to San Fran­cis­co, we decid­ed to do some in coun­try tourism. The fol­low­ing day was Novruz, the Per­sian New Year, and we planned to spend it along with 200,000 oth­er pil­grims in the epi­cen­ter of the cel­e­bra­tion in Mazar-i-Sharif, the cap­i­tal of the north­ern Afghan province Balkh which bor­ders Uzbek­istan, at the Rowze-e-Sharif Mosque hous­ing the pur­port­ed Tomb of Hazrat Ali.
Novruz is defined by the Ver­nal Equinox, which hap­pens when the sun crests across the true celes­tial equa­tor. Ter­res­tri­al­ly we expe­ri­enc­ing major shifts as well.
After Lou and I fin­ished pack­ing we hud­dled togeth­er with our cowork­ers to drink wine and watch the tel­ly (for per­haps the first time.) Bombs were falling in Libiya. Egypt had expe­ri­enced a coup. Oth­er North African and Mid­dle East­ern coun­tries were under­go­ing or on the verge of revolutions.
Road to Kabul
I eager­ly antic­i­pat­ed a cer­tain pho­to oppor­tu­ni­ty on the way out of Jalal­abad. Just a few miles west of our com­pound, near the Darun­ta dam, I had pre­vi­ous­ly spot­ted (but failed to pho­to­graph) an amus­ing bill­board with a car­toon depic­tion of a gag­gle of beard­ed Afghan vil­lagers hap­pi­ly hand­ing over a Stinger mis­sile to ISAF forces in exchange for mon­ey. No ques­tions were asked. Every­one was smiling.
It was an adver­tise­ment for the Stinger buy back pro­gram. Dur­ing the 1980s, the CIA "donated" ~2,000 shoul­der fired Stinger mis­siles to Muja­hed­din "friendlies". These mis­siles which could be used to shoot down Sovi­et heli­copters and tanks, had a sig­nif­i­cant impact in the out­come of the war. The Pak­istani intel­li­gence agency ISI had dis­trib­uted them with­out much account­ing. Con­se­quent­ly, no one knows how many are still float­ing around. Now the US has bud­get­ed mil­lions to buy back stray mis­siles for upwards of $100k a piece. It's cheap­er than the con­se­quences. And this cre­ates an inter­est­ing eco­nom­ic val­u­a­tion cli­mate for weapons. How much is your ene­my will­ing to pay you not to shoot at them? The "ransom price".
On the way out of town, we noticed that many of the bill­boards had been knocked down by the wind. Just yes­ter­day, they were still cov­ered with elec­tion posters six months past their due. I had won­dered just when they'd be tak­en down and by whom. The bill­boards that hadn't col­lapsed entire­ly stood warped and bare, picked clean by the sand blasts of wind.
The road to Kab­ul fol­lows the course of the Kab­ul riv­er, wind­ing its way along the south­ern bank through hills, past three par­tial­ly func­tion­ing and eter­nal­ly under-repair dams, and final­ly up a nar­row, dan­ger­ous, ser­pen­tine gorge local­ly known as Mohi Par (fish's tail).
The road is dot­ted with makeshift shacks sell­ing the avail­able boun­ty of the land. Today men waved reams of riv­er fish and kids shook bunch­es of moun­tain veg­eta­bles at oncom­ing traffic.
We passed a cou­ple fuel tankers, a favorite tar­get for IEDs, Their rusty tanks were leak­ing fuel right on the road.
Next we encoun­tered an oncom­ing Afghan Nation­al Army sup­ply con­voy. Unlike ISAF con­voys that dri­ve slow and flock togeth­er, ANA seems engaged in a race with each behe­moth for itself swerv­ing around the curves.
Remark­ably, right before our eyes a large con­tain­er flew off the back of one of the trucks, bounced on the road, and spilled its booty of ANA uni­forms onto the road.
"Stop," I yell to our dri­ver Najib. I sense a real­ly epic sou­venir pick­up. Got­ta get this one quick. He skids to a halt, but so does the car behind us. Oth­er peo­ple have the same idea. I run towards the uni­forms and so does the grey beard­ed Afghan from the sec­ond car.

But before we're able to snag the uni­forms, the next truck in the con­voy rounds the cor­ner, stops in the mid­dle of the road. Sol­diers hop out with their rifles and stare us down.

"Alright, you win. You can have your uniforms." I go back to the car with my heart pound­ing. Damn, it was close.
Face to Face
The mot­to "every car for itself" applies to every vehi­cle on the road. They swerve onto oncom­ing traf­fic try­ing to eek out ever more lanes out of two. If it wasn't so dan­ger­ous their opti­mism would almost be laudable.
The one way I can explain it is that they are mak­ing a ratio­nal cal­cu­la­tion where the vari­able that is dras­ti­cal­ly dif­fer­ent from my own val­u­a­tion is the val­ue of one's own life.
"This didn't hap­pen dur­ing the time of the Taliban," said Najib. "Everyone knew their lane and what would hap­pen if you veered out­side of it." (Of course, there were also few­er cars.)
Now what you get is a lot of avoid­able grid­lock. They call it glibly "face to face". It sounds nice. Sor­ry we were 5 hours late, "we had some face to face on the road." And every­one under­stands that what is meant by this is that cars piled up for miles on a two lane road face to face with­out any room to maneu­ver. It takes a lot of coor­di­na­tion to clear such a mess. Even­tu­al­ly, some­how, with guns waiv­ing in the air, we drove out of it.
Kab­ul
There was one errand left to run in Kab­ul. Â We need­ed to pur­chase a few point to point anten­nas so we head­ed to the com­put­er shop­ping dis­trict. Â A man with a rif­fle walked into the store and point­ed it at the shop­keep­er. Â After a few sec­onds it became clear it was a joke. Â Ha, ha, Afghanistan.
We dropped our stuff at Una's (the newest mem­ber of SSF but quite a vet­er­an for an expat in Kab­ul) and head­ed out for din­ner with a cou­ple of her jour­nal­ist friends.
One of the jour­nal­ists, Omar Mal­ick had just com­plet­ed a doc­u­men­tary in Pak­istan and come out to work for Basetrack.org a Knight Foun­da­tion Grantee that used Face­book to report on 1/8 Marines deploy­ment in Kan­da­har. He was now strad­ed since the mil­i­tary chose to ter­mi­nate this exper­i­ment. Omar had instead thrown him­self into iPhone hip­sta­mat­ic pho­tog­ra­phy and shared some amaz­ing shots over Thai food.
Togeth­er we roved to a Novruz par­ty at a com­pound of an Afghan "consulting" firm where the spread resem­bled that of an Amer­i­can col­lege dorm par­ty. Beers were stacked in a pyra­mid. Chips, sal­sa and munchies for appe­tiz­er. "Pizza is on the way."
The hosts asked us to "not be too loud and dis­turb the fun­da­men­tal­ist fam­i­ly that lives next door" as "they might do some­thing about it."
The atten­dees were Afghan staff of NGOs, the UN, or var­i­ous gov­ern­ment min­istries. Think of it like an Afghan belt­way crowd.
The guests and employ­ees alike were most­ly edu­cat­ed at lib­er­al arts col­leges in the West and unan­i­mous­ly felt like Amer­i­can mon­ey was being thrown at them to try to solve the "Afghan prob­lem". Jokes around the camp fire revolved around writ­ing impact reports and USAID pro­pos­als for fire­wood, which was run­ning low.
"Afghanistan is where the mon­ey is at. For edu­cat­ed Afghans and for secu­ri­ty con­trac­tors, that's the best wind­fall. Where else can twen­ty year old boys and girls con­sult gov­ern­ments [by the seat of their pants, some­times by just being the eyes that read on behalf of the illiterate]?"
There was a rumor about the pos­si­bil­i­ty of fire­works for Novruz so we ascend­ed to the roof. After the count­down to mid­night, noth­ing but the scent of Hin­du Kush and gen­tle gig­gles was heard.
Air­port
An ear­ly morn­ing "Hope Tax­i" gots us to the Air­port. Six cham­bers of secu­ri­ty, each with a male and female line, nei­ther more secure that the last, and we're in the main hall.
We have a Pamir Air­ways e‑ticket to Mazar-i-Sharif for three peo­ple. We're hap­py to have Najib along. We've become so close and these are our last four days togeth­er. Because of the hol­i­day the air­port is crowd­ed more than usual.
We check in at the only counter that says Mazar, even though it actu­al­ly seems like a dif­fer­ent air­line. Bags are checked, paper tick­ets issued, no hitch.
Through anoth­er tier of secu­ri­ty we find our­selves rest­ing in the wait­ing lounge.
Out of the cor­ner of my eye, I spot the air­line employ­ee who checked us in with a look of con­ster­na­tion. He's clear­ly look­ing for some­body. He's head­ing straight for us!
Evi­dent­ly the Pamir fleet was ground­ed as part of a gen­er­al Kab­ul Bank lend­ing prac­tice shake down and the airline's inabil­i­ty to repay a shady $98 mil­lion loan. The air­line was shut down two days before our flight. We saw Pamir planes parked at the air­port. Iron­i­cal­ly, their online tick­et sales web­site is still run­ning, while we are still out $900+ for our flights.
He explains to us that we had pur­chased tick­ets for an air­line that ceased to exist by the time we got to the air­port. He had mis­tak­en­ly issued us tick­ets and now insists we actu­al­ly pay for them to get on the flight.
Nat­u­ral­ly we protest, but as absurd as it is, it was also clear that he was speak­ing the truth. No, he didn't know how we would go about get­ting a refund from Pamir, but then again, nei­ther did the many oth­er peo­ple who were in the same sit­u­a­tion that we were.
We paid and boarded.
To be continued …
Rawed's father Gulza­da brought him to Jalal­abad city to be seen by a doc­tor.  Sev­en year old Rawed was show­ing symp­toms of jaun­dice.  They drove into the city from a small vil­lage in the dis­trict of Sherzad.  As is com­mon prac­tice, dad tem­porar­i­ly left Rawed with a shop­keep­er from the same vil­lage and went to park the car.  "I'll be back in a few min­utes, and then we'll walk to the hos­pi­tal."  When he returned the child was gone.
Gulza­da is our friend Haji Najib's ma'­ma', which means mater­nal uncle. Â A pater­nal uncle is called ka'ka'.
The shop­keep­er insist­ed, "he was just here." When thir­ty min­utes passed and the boy was still miss­ing, dad called Najib.
Ma'­ma: "What would you do if you lost a child in Jalalabad?"
Haji: "I'd make sure not to lose the child, and if I did …"
Ma'­ma': "I lost my son."
Haji: "I'm on my way."
Haji, which is how every­one calls Najib, always seems to be deal­ing with emer­gen­cies and he's good at it.  We call him in like a stor­m troop­er and he comes through. After he got this call, we lost him for two days.
So what do you do if you lose a child in Afghanistan?
Haji, Ma'­ma' and Ka'Ka's son rent­ed a loud­speak­er, mount­ed it on the car, and start­ed cruis­ing an increas­ing perime­ter around the site the boy was last seen.  They brought Ka'ka's son along because he has a mem­o­rable cell­phone num­ber.  They fig­ured this was impor­tant if you were going to be shout­ing it out in passing.
"Dear fel­low Mus­lims, we have lost a 7 year old child around 9am. Â He was wear­ing grey cloth­ing and white shoes. Â If you have any infor­ma­tion, please call 077 77 20 900."
They kept repeat­ing this fruit­less­ly until 3pm.  And then a 15 year old boy who sells phone cards in a road side shack ran up to the car.
"I've seen your son.  He was with me until 11:30am.  He was cry­ing and I tried to calm him.  I bought him an orange.  He refused.  I bought an apple.  He refused.  He kept say­ing my home is there and point­ed at the hori­son.  'I want to go back home to Sherzad.' "
The 15 year old found a 10 year old who was from the same dis­trict.  As it lat­er turned out, that was a for­tu­itous move.  The 10 year old was a rel­a­tive.  But nei­ther the 10 year old or Rawed knew their relation.
The 10 year old was instruct­ed to bring Rawed home.  Sure­ly, some­one from Sherzad should take care of a miss­ing child from Sherzad. Unfor­tu­nate­ly, Rawed did not coop­er­ate.  He kept cry­ing and just min­utes lat­er refused to go any fur­ther.  "I want my dad."
As it hap­pens in fairy tales, three tweleve year old boys chanced upon Rawed and his 10 year old com­pan­ion.  They inquired, delib­er­at­ed, and decid­ed that they should take Rawed.
They did the sen­si­ble thing.  They first took him to the near­est Mosque and hav­ing announced the case and con­sult­ed with the Mullah, they decid­ed to start scan­ning their own perim­iter, on foot, announcing:
"Dear Mus­lims, we have a lost child. Â Here he is. Â Look at him. He is from the vil­lage of Shirzad. Â Help us find his parents."
And they walked like this for many hours.  Even Haji Najib heard about them from peo­ple who walked up to his car with the loud­speak­er.  The twelve year old boys tried dili­gent­ly.  After many hours, when the
sun was near to set­ting, at 5pm, they met a 25 year old man in a car. Â He was also from the same vil­lage and offered to help the boys out. Â He would take Rawed and help him find his father.
By this point, the loud­speak­er broke twice and Haji Najib and crew had both times replaced it.  They also request­ed an announce­ment to be broad­cast on three radio sta­tions at 11 am.   They wore our their voic­es, tak­ing turns, until 10pm.
At this point, activ­i­ty stopped on the street, and Haji, Rawed's dad, and all of the male mem­bers of the fam­i­ly present in Jalal­abad gath­ered around the din­ner table and made their plans for the fol­low­ing day.
They decid­ed to break up into teams.  At this point, they heard about the 12 year old boys and the fact that they con­nect­ed with a local Mosque.  They fig­ured, one team will can­vas the schools and one the Mosques.  Sure­ly, they would find him.  A third team, lead by Haji, would con­tine enlag­ing the perime­ter with the loud­speak­er.  If nei­ther par­ty found the boy by 4pm, they would make an announce­ment on television.
After a sleep­less night, they set out at 6am.  They had no suc­cess.  Haji start­ed to get phone calls from a man claim­ing to have found the child.
"Con­sid­er as if he is with his moth­er and father.  If you pay money, you have noth­ing to wor­ry about."
The phone calls per­sist­ed.  The sums request­ed were small, maybe 10$ worth of phone cred­it, but the caller refused to allow con­tact with the child.
It is not uncom­mon (in Afghanistan as else­where) for peo­ple to oppor­tunis­ti­cal­ly prey on oth­er peo­ple's vul­ner­a­bil­i­ties. Haji's phone num­ber had been announced on the radio, so the caller could just be a prank. Nev­er­the­less, it was the one active lead, so Haji start­ed tap­ing his con­ver­sa­tions, drag­ging them out and try­ing to extract as much infor­ma­tion as possible.
At 4:30pm they deliv­ered a pho­to from Gulzada's phone cam­era to a local tele­vi­sion sta­tion, RTA (Radio Tele­vi­sion Afghanistan).  Then they resumed dri­ving around with the loudspeaker.
Hameed joined the crew at 5pm and took over the announce­ments with a fresh voice.  At 7pm of the sec­ond day, the loud­speak­er broke for the third and final time.  It was too late for repairs or a replace­ment.  And they were worn out.
They returned home for sus­tainance and an all hands meet­ing.  After din­ner and tea, the search par­ty, which by then had grown to 10 peo­ple, crashed out in Haji's fam­i­ly's liv­ing room.
At 9pm, the elder of the house (a law pro­fes­sor at Ari­ana Uni­ver­si­ty who had stud­ied in Bul­gar­ia) roused them with news that Rawed's face had just been shown on RTA tele­vi­sion.  And at 9:45pm Haji got a cal­l from anoth­er num­ber, say­ing that they had the kid.
It turns out, that the 25 year old brought Rawed home as promised. His father, a big merchent in town, hand­ed the boy to one of his employ­ees for care.  This way Rawed spent the sec­ond day in the vil­lage of Baze ik Malati (where Baze refers to its prox­im­i­ty to the Amer­i­can base at JAF, Jalal­abad Air­force Base).
On the phone they agreed to meet at a pub­lic square called Chowk Muh­brat.  The mer­chant and his 25 year old son came alone. When they con­firmed the iden­ti­ty of the child with a pho­to, they agreed to exchange Rawed at the police station.
The mer­chant drove with Haji, while his 25 year old son went to fetch Rawed.
At the sta­tion, Haji ran up to hug Rawed, but Rawed looked star­tled as if he had­n't rec­og­nized his cousin, and start­ed to cry for his father. I'm not sure why they did­n't bring his father in the first place, but at this point, they sent a car for him.
In his fathers arms, Rawed cried and laughed.  The iden­ti­fi­ca­tion was com­plete and the cel­e­bra­tion started. One of Haji's uncles gave 2000 Afs to the mer­chant as a find­er's fee and anoth­er 500 to his 25 year old son. Anoth­er uncle gave 2000 Pak­istani Rupees to the 25 year old.  The police asked for some too, say­ing they also want­ed to cel­e­brate.  So they gave 500 Rupees to one offi­cer and anoth­er 500 to the clerk who filled out the paperwork.
They also picked up oranges and apples and hand­ed them out to everyone. The fol­low­ing day Rawed and Gulza­da went back to their vil­lage car­ry­ing a load of fruits, tea and sug­ar from the big city, expect­ing to host lots of rel­a­tives in the vil­lage who were aware of the sit­u­a­tion and under­stand­ably concerned. They did not stop to vis­it the doc­tor in Jalal­abad.  Anoth­er one of Haji's uncles is a Tajik­istan edu­cat­ed doc­tor that lives in Sherzad and runs a phar­ma­cy, so they decid­ed to bring the boy to him.
In the final tal­ly, Rawed had changed hands from his father, the shop­keep­er, the 15 year old, the tweleve year olds, checked in at a local Mosque, the 25 year old, his mer­chant father, spent the night at the mer­chan­t's employ­ee's house and was final­ly reunit­ed with fam­i­ly at the police station.
The search par­ty (which grew to ten peo­ple and involved many others) last­ed for two days and spent a few hun­dred dol­lars on loud­speak­er rental, repairs and replace­ments, gas, pho­to repro­duc­tions, food and fruits.
In the end, they found Rawed.
Najib called the orig­i­nal caller back anoth­er time.  He asked whether he still had the child.  The guy claimed he had.  How did you get him?  Najib asked.  "An Army com­man­der gave him to me."  Najib cursed him out.  Either this was all a ploy, or anoth­er child is still out there, kidnapped.
On a down day in Kab­ul, we decid­ed to take a road trip up to Pan­jshir Valley. Lou has writ­ten about our expe­ri­ences in a pre­vi­ous post. This post focus­es on the game of Buzkashi.
The objec­tive of Buzkashi is to gain pos­ses­sion of a goat car­cass, car­ry it a full loop around the field, and then deposit it into your oppo­nents goal (which is a cir­cle on the ground). If at any time you drop the goat, you have to restart the loop again.  There are ref­er­ees who deter­mine whether the goat has been deposit­ed in the goal correctly. Here's a frame of the play­ers look­ing for the call from the ref.
Los­ing pos­ses­sion means you either dropped the goat or some­one yanked it out of you, like a fum­ble in Amer­i­can football. Here you see the dead goat on the ground among the pile of horses. Now one of the play­ers has to lean down off his horse (with­out dis­mount­ing and pick up the ~100lb car­cass).  That is a dan­ger­ous propo­si­tion. Hope­ful­ly your friends have blocked out your oppo­nents well, before you try. Oth­er­wise you will get trampled.
Mark the Sovi­et Tanker hel­mets many of the play­ers are wear­ing in this
I asked them where they got the helmets. They said it was form the Sovi­et Tankers they killed. Up and down the val­ley, there are hun­dreds of scat­tered tanks. Four hel­mets per tank. I believe them. Nowa­days, some wear Amer­i­can Army gear.
The rid­er in the cen­ter is try­ing to reach down and grab the goat.
Mud soaked from falling.
This rid­er got up and rode again. It is a bru­tal sport. You show your met­tle to your fel­low villagers.
Some­times it takes four hands to brag the goat.
Here you can see a formation. The three on the right are like the linebackers. Then one behind them is ready to block out anoth­er team. And the two behind him are shar­ing the load of car­ry­ing the goat.
Tak­ing pho­tos from the crowd. And now turn­ing the cam­era at the crowd.
On the way back home, our car shared the road with Buzkashi rid­ers on horses. This one tried to grab my camera. Instead, I got a shot and then reached out and shook his hand.
Now see it all in action (thanks Lou!):
Our Malik Dave had a won­der­ful idea. The rea­son­ing went some­thing like this:
Let's employ the Afghan com­pa­nies that sprung up to print elec­tion posters.
They are cur­rent­ly out of work because the elec­tion sea­son is over.
Lest we hire them, they may be up to no good.
We call this tech­nique weaponized shop­ping and it's one of the tech­niques in the arse­nal of the Syn­er­gy Strike Force.
Over the past month, Lou, Juan and crew have put them­selves towards select­ing and opti­miz­ing high qual­i­ty image files for large for­mat print­ing of edu­ca­tion­al mate­ri­als. We did a test run with the print­ers and then sub­mit­ted our final order. Yes­ter­day, (Sun­day 20th) Hameed and Najib went to pick up the posters.
As things turn out here, the shop own­er had been arrest­ed by the police on sus­pi­cion of print­ing mate­ri­als for (Al Qae­da or) the Tal­iban. When the police raid­ed the store, they sen­si­bly con­fis­cat­ed all of the print­ed mate­ri­als in their pos­ses­sion as evi­dence. Among this pile cur­rent­ly in pro­ces­sion of the police are posters on the sub­jects of cell biol­o­gy, hydrol­o­gy, and the peri­od­ic table of elements.
Hope­ful­ly, we'll get them back. We did pay a good 4,000 Pak­istani Rupee equiv­a­lent of 45$ Pak­istani Rupees, called "Cal­dari" are the de fac­to cur­ren­cy of Jalal­abad deposit.
Such a day's course of events is start­ing to seem per­verse­ly nor­mal for us, as much as I can still imag­ine seems per­verse­ly abnor­mal for those whom I usu­al­ly count as peers.
***
Two days ago (Sat­ur­day Sat­ur­day is the first day of the work week. 19th) an attack took place in the cen­ter of town focused on Kab­ul bank where police offi­cers were col­lect­ing their pay. From our sources at the hos­pi­tal upwards of 40 peo­ple have died and many oth­ers are in crit­i­cal con­di­tion. Among the dead are report­ed the "deputy police chief and the head of crim­i­nal investigation."
Many of our friends at the pub­lic hos­pi­tal were on high alert deal­ing with the patients that stretched their capac­i­ty. Mean­while our friends at a local radio sta­tion were broad­cast­ing the need for blood donors across the air­ways, result­ing in hun­dreds of donors show­ing up at the hos­pi­tal, ready to give.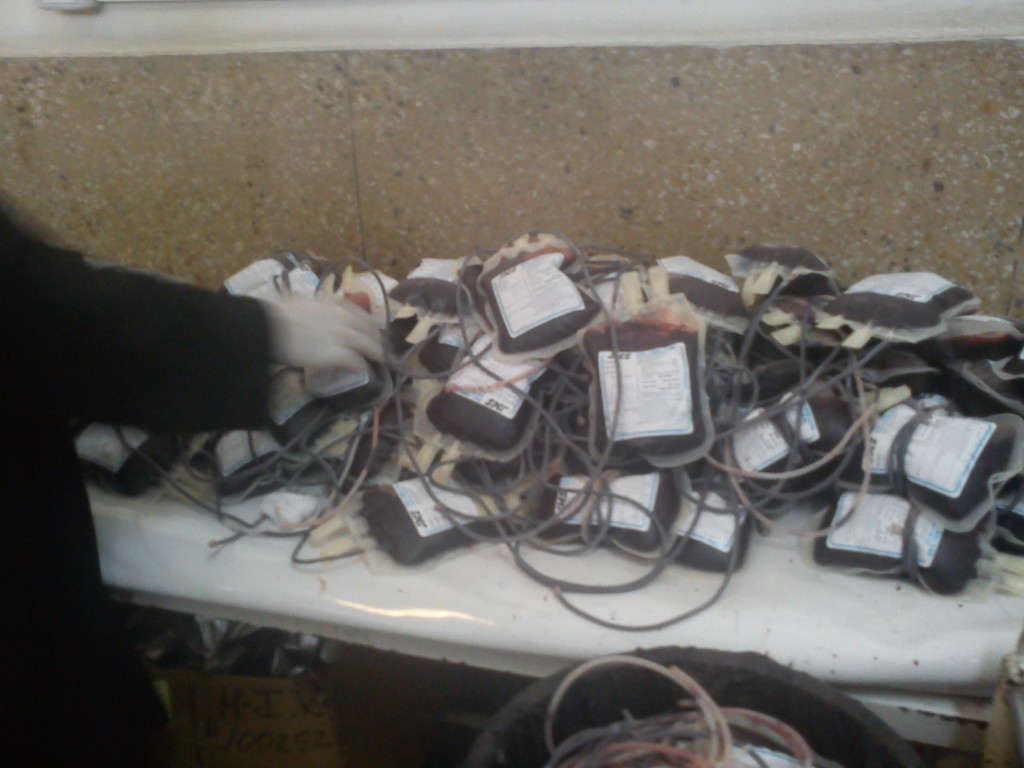 Our friends say that the only day in recent mem­o­ry that com­pares at the lev­el of impact was when protests erupt­ed in 2005 after it was alleged that the Koran had been flushed down the toi­let in Guan­tanamo. Â The dif­fer­ences are stark. There are many more civil­ian casu­al­ties and this was not a pop­u­lar uprising.
***
Yes­ter­day (Sun­day 20th) was a day of mourn­ing. Two of our guards had lost a broth­er. Many of our friends had checked out for the day to attend funer­als for friends, rel­a­tives and acquain­tances. Our UPS (unin­ter­rupt­ed pow­er sup­ply sys­tem) had died but we could­n't get it repaired because the shop of the com­pa­ny that had built it was also dam­aged in the explosion.
***
We got hold of some exclu­sive footage.
In this video you see a cap­tured insur­gent and secu­ri­ty video show­ing how he entered the bank dressed as a police offi­cer and start­ed fir­ing. Sev­er­al things stand out. First­ly, he looks like a clean cut young man, noth­ing like what we have learned to think of as insur­gent or ter­ror­ist. Sec­ond, while he is fir­ing hordes of peo­ple run past him, with­in a foot in dis­tance, and none of them give his vul­ner­a­ble back­side a good whack.
Pages
Categories
Recent Comments